Lady Gaga spilled the beans about stress, sexuality, and her romantic future in Elle's January 2009 Issue. Check out some of Lady Gaga's cover shoot for the said issue: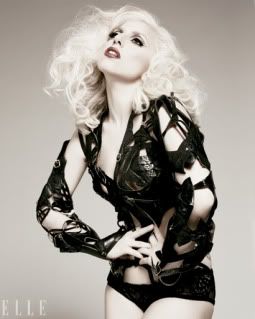 Leather sandal jacket from the Artisanal collection. Panty from Agent Provocateur

Iridescent plastic dress by Jil Sander. Tights by Falke. Suede elevated platform shoes from Vivienne Westwood.



Transparent plastic veil top by Karl Lagerfeld. Brief from Frederick's of Hollywood. Sunglasses by Linda Farrow Projects.

Source